SU introduced Zipcar – the world's largest provider of cars on demand by the hour or day – in December 2007. Since then, students, faculty, and staff from SU have been taking advantage of this car-sharing program by self-reserving (through online and mobile devices) one of the 22 Zipcars on campus – 24 hours a day, seven days a week.
Zipcars are conveniently located on the SU campus in the following areas.
Center of Excellence:   1 car
Main Campus:
Kimmel Loading Dock 1 car
Flint / Day Halls 4 cars
 Haven lot 2 cars
Marion lot 1 car
Sadler lot 1 car
West Campus:
Stadium lot 4 cars
South Campus:
180 Small Road 2 cars
100 Winding Ridge / Skytop 1 car
University Village Apartments 2 cars
Skyhall Circle 2 cars
Goldstein Student Center 1 car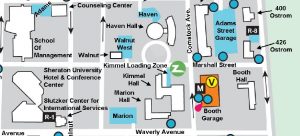 You can view the campus Zipcar locations represented on the Campus Maps with the company's trademark green "Z" symbol: 

Zipcar is the world's leading car sharing network with operation in urban areas and college campuses throughout the United States, Canada, the United Kingdom, Spain and Austria. Zipcar offers more than 30 makes and models of self-service to residents and businesses looking for smart, simple and convenient solutions to their urban and campus transportation needs.
For general information, and how to get started, visit http://www.zipcar.com/how.
Students joining Zipcar will gain access to SU's 22 Zipcars starting at $7.50/hour and $69/day. Gas, insurance and 180 miles per day are included, along with reserved parking spots and 24/7 roadside assistance. There is a $15 sign up fee.
For more information regarding Syracuse University's Zipcar program, visit http://www.zipcar.com/universities/syracuse-university.